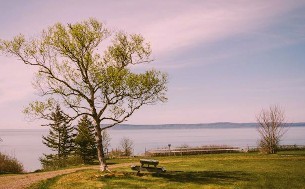 Glooscap On The Fundy Shore Campground
Provincial Campground
Glooscap Campground and RV is located on the beautiful Bay of Fundy in picturesque Parrsboro. From here, you can discover miles of hiking trails, numerous beaches, and spectacular scenery. Parrsboro is also a convenient base for short trips along the Bay of Fundy and through the Annapolis Valley region, taking in such sights as the UNESCO World Heritage Site at Joggins Fossil Cliffs, the Anne Murray Centre in Springhill, the lighthouse at Cape d'Or, and Cape Chignecto Provincial Park.

Our campground offers 46 overnight sites, either unserviced or with electrical and water hook-up, as well as 31 seasonal sites. There's lots of room for slide-outs. We are an open and wooded campground and provide the following guest amenities: pit toilets, washrooms, pay showers, a disposal station, wood, ice, a rec hall with free WiFi, a playground, and a sand beach. Activities include fishing and hiking, and golf is nearby. Pets are welcome, but they must be kept on a leash and owners must clean up after them.
glooscapcampground@outlook.com

Cash and debit cards are accepted.

Cancellation policy: Must cancel 48 hours prior the the day of arrival.

Months of Operation
May 19 - September 30

Fax: 902-254-2313
Camp Hosts: John Best
How to Get Here
Bay of Fundy & Annapolis Valley

Down Main Street, turn left at war memorial; 6.5 km (4 mi) along Two Island Rd at Clarke Head.
1380 Two Island Road
Parrsboro, NS
B0M 1S0
Amenities and Services
Playground
Pullthroughs
Recreation hall
Disposal station
Electrical hook-up
Pit toilet
Unserviced
Water hook-up
Open sites
Shaded sites
Showers (Paid)
Swimming (ocean)
Facilities
Internet access
Pets welcome
Nearby Attractions and Services
Activities: Fishing, Hiking
No news articles were found.
No upcoming events were found.
Are you the owner of this campground?
Send us a message to claim this directory listing so you can make updates to this page, start accepting reservations online, and use our other features for campground staff.